Bio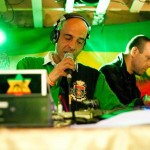 Jah Sound International the 'Voice of the Voiceless' based in the Netherlands was founded in 1989 by Glamma Willy and Hearticle Wise. Jah Sound International represents Reggae Music for 25 years now and they continue the saga, for even in 2018 Reggae music is still being banned from the main stream media. A show with Jah Sound is like a trip through Jamaicas musical history. When Jah Sound performs, you feel like you are in Jamaica, enjoying a positive authentic roots rock reggae dancehall vibe! Jah Sound International has paved the way for many wellknown European sound systems. Glamma Willy (DJ/Mc) is one of the best Mc`s of all time in Europe.
Jah Sound International played with big sound systems like Bodyguard (Jam) – Stone love feat Rory and father Weepow (Jam) – Killamanjaro feat Ricky Trooper (Jam) – Saxon (UK) – David Rodigan (UK) – Bodyguard feat Johnny – Lord Gellys (UK) – One Love (It) – Freddy Kruger (Jam) – Chris Goldfinger (UK) – Luv Injection (UK) – One Love (it) – Robbo Ranx (UK) and many more.
Also they performed with artists like Buju Banton – Beenie Man – Sugar Minott – Lt. Stitchie – T.O.K. – Runn DMC – Yellowman – Jah Mason – Israel Vibration – Gyptian – Turbulence – Ziggi Recado – Pinchers – Danny Dread – Robert Lee – Sista Gracey – Skarramuchi – Brigadier Jerry – Nighthawk and many more at venues and festivals all over Europe.
Click here to read more about Jah Sound International.