News
27 – 28 juni at Reggae Fever
Make it a special date and don`t be late……………………this one is BIG !!!! Jah Sound International will be performing on the 27th of june at the Reggae Fever festival in Groningen with Beres Hammond – Taurus Riley – Ziggy Recaro – Kenny B – Gentleman and more . Jah Sound will start playing from 21.30 hours.
16 – 23 AUGUST at Rototom Sunsplash
Rototom Sunsplash is more than a festival in Spain. It is an idea, a way of understanding life, a way of relating to others, applied to a cultural event. They try to make everything we do as consistent as possible with this way of thinking, fighting to balance the desire to change the world with the need to generate income to enable us to continue to grow this idea. Respect, solidarity, pacifism, tolerance and environmentalism … are just some of our values that we try to apply the festival and all the events they participate in all aspects. Jah Sound International will be performing at this great event in Spain. Check out our website soon for spectacular details.
9 & 10 AUGUSTUS: Jah Sound International at REGGAE SUNDANCE FESTIVAL in the city called Eindhoven (The Netherlands)

Together with Beenie Man – Shaggy – Busy signal – Mr Williamz – Dillinger & Trinity – Daniel Bambaata Marley – Kabaka Pyramid – Big Youth – Jesse Royal – John Holt – Ali Campbell & Astro wilson, the voices of UB40 – Luciano – Mutabaruka – Midnite – Earl 16 – Mafia & Fluxie – Tanya Stephens – Alborosie – Tarrus Riley – Coxsone Sound – Unity Sound and much much more !!!!
28 JUNE 2014: AMSTERDAM REGGAE VILLAGE INDOOR FESTIVAL at the famous Music Heineken Hall

This will be the first edition of the AMSTERDAM REGGAE VILLAGE INDOOR FESTIVAL at the famous Music Heineken Hall in Amsterdam with Gentleman – Richie Spice – Jah Sound International and soon more artists will be announced. Adress : Arena Boulevard 590 Amsterdam (The Netherlands)
7 JUNE 2014: REGGAE SALUTE FESTIVAL



With Ashwin Jaydee – Maikal X – Kenny B – Charan – Fullany – Joggo Seedorf – Jah Sound International – The Movers – Redemption – Jah Volution band – Pape Mann – Foundation Sound . This festival will take place just outside the wonderfull city of Groningen (The Netherlands)
Adres : Oude Roodehaansterweg Groningen. Pre sale tickets available at www.music-mission.com also at www.ticketmaster.nl and at all Primera shops in The Netherlands
19 April 2014 The Skatelites and Jah Sound International at club Het Bolwerk in Sneek (Netherlands)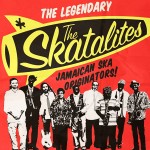 This is a night with 2 veterans in action. The Skattelites an Jah Sound International. The Skatelites are 50 years on the road and the Jah Sound crew are 25 years inna the scene. This night will be a traveling through the earlie days of Ska and Rocksteady music. this night Jah Sound will play the finest Studio One – Treasure isle and Ska tunes …..
Wake the town and tell the people cause the Skatelites are coming your way !!!
Although many people today would associate ska with bands like The Specials, The English Beat, and Crawdaddy, it was actually The Skatalites, formed in 1963, that pioneered this musical sound. Lasting only 14 months after their original inception, this groundbreaking band has made some major comebacks. In 1984 they performed at The Reggae Sunsplash Festival in London and released the album Return of the Big Guns that same year. More recently, The Skatalites have composed two more albums accompanied with live performances. The 1990s marked the group's fourth decade together, during which they have gained widespread popularity since their reunion. In an effort to meet the demand for their colorful, electrifying shows, The Skatalites continue to tour year round.
"When I came back to Jamaica in 1962, there was this tune there, 'Schooling the Duke.' It was tearing down the airwaves," recalled original Skatalites leader Tommy McCook in a 1984 interview with David Rodigan of Capital Radio London. He was impressed by the jazzy sounds of Johnny "Dizzy" Moore and Don Drummond, who both played on the tune. A jazz musician himself, McCook was peforming one night when he was approached by Moore and Drummond and asked to record with them. McCook initially refused but eventually joined the band that would later become The Skatalites.
During the 1960s, members of the band were heavily involved with recording sessions in Jamaica. They are also credited with inspiring the Britsh two-tone movement of the late seventies and early eighties. While recording primarily for producer Clement "Sir Coxsone" Dodd of Studi One, they performed with other acts such as the Charms, the Maytals, the Wailers, and the Heptones.
The Last Gig
Although band members continued to perform with other artists, The Skatalites officially broke up in the summer of 1965. "Our last gig was at the Runaway Bay Hotel, Police Dance," one Skatalite remembered in the 1984 interview. However, a new band, Soul Vendors, was subsequently formed and included the likes of Johnny Moore, Jackie Mittoo, Lloyd Brevette, and Bunny Williams.
Tragedy struck the band on May 6, 1969, when one of the founding Skatalites members, Don Drummond, died mysteriously while in a mental hospital. He had been plagued with mental problems for years, which perhaps influenced his music. "He was great, the sounds he produced," commented McCook in his interview with Rodigan. "And the way he played his horn…would make you wonder you know…it was all so moonfull, sometimes you could cry inside." McCook also suggested that Drummond's death involved foul play–possibly as the result of a 1965 incident in which Drummond, in an angry rage, stabbed his girlfriend Marguerita to death. She was the daughter of an alleged mafia family.
Drummond had written some songs that were posthumously recorded, allowing his music to survive. McCook acquired the compositions after one bandmember collected them during Drummond's arrest. For years he retained the music as a memory, but McCook eventually decided to record it. "I took the music…to the piano," he told Rodigan, " and started to put the changes to it and things like that and it came out nice." Before his death, Drummond had won several jazz trombonist awards.
One of the first Jamaican acts to sign with Island records, The Skatalites reached the British Top 40 with "Guns of Navarone" in 1967. The same year the Skatalites ceased recording under that name, although most members remained involved in Jamaican music. Some pursued solo careers, while others moved to England and became session musicians. One member, Rico Rodriguez, played horns on The Specials self-titled debut album in 1979, which incidentally was produced by the legendary Elvis Costello.

But it was "synergy" that reunited the band, as McCook declared to Rodigan. Playing for a whole new generation, The Skatalites released Ska Voovee in 1993, which contained 11 new instrumental songs, including a tribute to Drummond called "The Don," featuring his replacement in the band, jazz trombonist Steve Turre. Reunited band members include Tommy McCook, Ron Wilson, Lester Sterling, Lloyd Knibbs, and Lloyd Brevette. According to Geoffrey Himes of the Washigton Post, "The two Lloyds once again serve up the push-and-pull rhythms–with their emphasis on the off-beat–that first defined ska as something different from North American R&B and set the stage for reggae." This "off-beat" sound has influenced the music of many modern artists, who have sampled Skatalites rhythms to blend with their own.
Although The Skatalites defined the ska sound in the 1960s, most of the original members began their careers as jazz musicians, and with the 1994 release of Hi-Bop Ska, the band seems to have come full circle. The founding members "at the core of this reformed ensemble reaffirm their jazz roots in vibrant style here," opined Down Beat's Larry Birnbaum. "New compositions blend easily with classics like 'Guns of Navarone' and 'Man in the Street.'" In 1995 McCook suffered a heart attack and was forced to take a hiatus from his busy touring schedule. But this didn't prevent him from returning to the studio to record 1996's Greetings from Skamania. A biography released by Shanachie Entertainment asserted that the result of this effort is "a lava-hot album that exemplifies the best the Skatalites have to offer. Pounding ska beats and blistering jazz solos blend seamlessly together to create an album that feels simultaneously cutting-edge fresh and tempered-steel classic.
31 MARCH 2014 CRONIXX + JAH SOUND INTERNATIONAL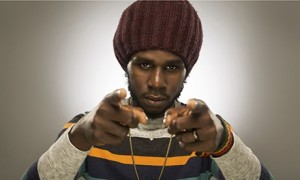 On this date it will be totaly niceness with Cronixx and Jah Sound International at Club Vera Groningen, The Netherlands.
Chronixx was the 'stage' name his friends bestowed on him, replacing the name 'Little Chronicle' he was given as the 'junior' to his father, the artist Chronicle. A little star amongst his peers, he had shown a love for music and song writing from an early age. He was born October 10, 1992 and was named Jamar Rolando McNaughton. His father, a musician, recognised his talents and nurtured him in an environment in which he could grow into whatever area of music he chose. Always accompanying him to the studio, Jamar grew up around the likes of Burro Banton, Norris Man and the legendary Gregory Isaacs.
With a big smile and an engaging personality, he confidently set out to make his mark in music, by writing his first song 'Rice Grain' by the age of five and going on to be choir director and worship leader at 11. Coached by Danny Browne, he recorded his first song with him in 2003. Always displaying his versatility, Jamar, as a young man at St. Catherine High School, harmonised for gospel artistes such as Jermaine Edwards and reggae artiste Lutan Fyah.
At 14 years, he started producing and 'building riddims' for artistes such as Konshens and Munga Honorable and composing riddims such as the 'Freezer Riddim' for Icebox Records and voicing artistes such as, Popcaan for Maverick Records. While focusing on academics, with a special love for Visual Arts, Chronixx knew that his inner voice was coaxing him to let his own voice be heard.
After his brother's death in 2009, Chronixx became more inspired to 'push out' and as fate would have it, in that same year, met some 'brothers' who have undoubtedly impacted on the promising artist he is today. The synergy he found with Romaine 'Teflon' Arnett of ZincFence Recordz gave birth to the creation of a singer, stepping out militantly with a unique voice and armed with lyrics and an accompanying musical sound, set to capture his place on the reggae music stage.

In 2010, as if on a mission, Alty 'J.O.E' Nunes impacted on the lives of not only his brothers, Aijah & Jahnoi, but on Chronixx as well. They started working as a team and after Joe's passing in February 2011, Chronixx, in honour of the Jah Ova Evil legacy, took his career to another level. Instead of going on to Edna Manley College as planned, he, along with other members of the Jah Ova Evil family, released singles such as Behind Curtain, African Heritage, Wall Street and Warrior.
Today, Chronixx credits his versatility and his professional stage presence to the early lessons he received from his father Chronicle, who always shared his own experiences and encouraged his son to go one step beyond with each performance. Chronixx is not disappointing his father, his family or his friends who know that the 'sky is the limit' for this young man who sees 'music as his mission.
29 MARCH 2014 Reggae night at club Bolwerk with DUB FACTORY & JOGGO SEEDORF live on JAH SOUND.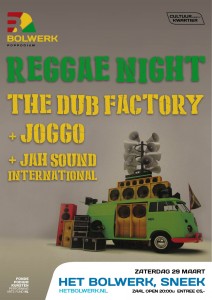 BIOGRAPHY OF JOGGO
This young talented Reggae artist called Joggo" born as Jurgen Orville Seedorf on October the 29th 1980 in Amsterdam, the brother of the famous football player, Clarence Seedorf introduced himself to the reggae audience in 2008 after the release of the mix tape "Beware". The song "Beware" on Bobby Konders "Kingdom riddim" had a huge international impact and peaked at the #2 position in the official German reggae charts for weeks.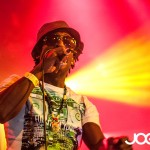 With performances on big festivals like: Summerjam and Reggaejam, …Joggo also proved to be an excellent live performer which resulted in holding crowds busy from beginning till the end. After releasing several singles on riddims of internationally well known producers such as: Curtis Lynch, Jr Blender and many more, Joggo also got recognition in Hawaii where the single "Peace and Love" turned out to be an instant hit tune.
Growing up with all kind of musical influences, reggae always had a special place in his heart. This because of the positive and conscience messages brought into the music. His biggest inspiration to start singing reggae is: Bob Marley but also legends like Burning Spear, Dennis Brown, Berres Hammond, Jimmy Cliff and Gregory Isaacs.
In June 2011 Dredda Records released Joggo's first official album called Modern Rockers Vol.1, this album contains hit songs like Peace and Love, DJ, Gun Down and Strong Black Woman. Also on this album the well known Turbulence The Future appears in a Featuring with Joggo and Jah Decko with a big tune "Strong like Lion"!!
Joggo started to focus on the release of his new album and new singles. After various performances on summer festivals such as Zwarte Cross, Ruigoord and Reggae Sundance he also opened the show for Stephan Marley, Ijah man Levi, Midnite and Turbulence.
He released the first two singles from his upcoming album "conscious love", called "Keep it burning" and "Private Performer" who within one week reached the number 1 position at the I tunes reggae charts top 200. Many radio performances and interviews with the mainstream audience followed.
Stay tuned for more Joggo music!!
Blessed love!!
27 FEBRUARY 2014 LIVE IN CONCERT JAH MASON & LUTAH FYAH ALONGSIDE JAH SOUND INTERNATIONAL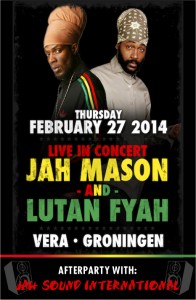 JAH MASON BIOGRAPHY
Andre Johnson (born 1970), better known by his stage name Jah Mason, also known as Fire Mason, is a reggae singer/deejay from Jamaica, active as a recording artist since 1991.
Jah Mason was born in Jamaica's Manchester Parish, and grew up in a Christian family. During his childhood, he was nicknamed Perry Mason for his ability to resolve disputes, and it was under this name that his debut single "Selassie I Call We" was released in 1991 on Junior Reid's JR record label.
In 1995 he joined the Bobo Ashanti order of the Rastafari movement, and began performing and recording as Jah Mason after linking up with the David House group. He had hits in Jamaica with "My Princess Gone" and "Lion Look", and also made guest appearances on singles by his friend Jah Cure. His first albums came in 2002 with Keep Your Joy and Working So Hard. Since then he has released albums at a rate of more than one a year, including Wheat and Tears and Princess Gone…The Saga Bed, both released in 2006 on Greensleeves Records and VP Records respectively, and the latter distributed by Warners. The album called Wheat and Tears is musical, and for hardcore reggae fans, the disc should provide enough of a vibe to chill with." David Jeffries of Allmusic described him as "an effortlessly agile artist able to communicate love, pathos, revolution, spirituality, and even sensuality on equal terms."
LUTAN FYAH BIOGRAPHY
Anthony Martin (born December 1975), better known as Lutan Fyah, is a Jamaican musician, singer, and member of the Rastafari movement Bobo Shanti.
Born in Spanish Town, Saint Catherine Parish, Jamaica, Lutan Fyah, sometimes credited as Lute and Fyah, started his musical career in 1999, after having spent some time as a professional football player. He recorded his first songs for Buju Banton's Gargamel Records. His first two albums were released by Lustre Kings and Minor 7 Flat 5, the latter of which included Fyah as guest artist on albums by Turbulence and Luciano.
Fyah also released several singles on various label from Jamaica, United States and the UK, and has also covered Dr. Dre songs and The Fugees. He has appeared on many compilation albums and featured in many other artists song releases. In 2009 Dubstep artist Rusko released Babylon Volume 2 including the track "Sound Guy Is My Target" featuring Fyah.
Fyah has voiced a number of singles for Jah Warrior including Never Surrender My Faith, Let Righteousness Be Your Guide,Jah is living featuring Khalilah Rose and Crab Inna Barrel. Fyah has performed several times at the Uppsala Reggae Festival.